Back Extension is a stackable item in Forsaken world used to increase the number of slots in your bank. It has the following description:
Using a Bank Extension
Edit
This item is used at a Stash Keeper NPC, the same NPC you interact with to open your bank.
1. When interacting with a Stash Keeper NPC, choose the Khoaway Bank Safe Box option to open your bank.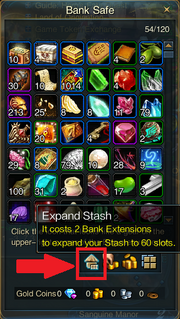 In this example, it costs 2 Bank Extensions. Early in the game only 1 Bank Extension is used to upgrade the amount of bank space.
3. Click the Expand Stash Button as indicated above. This button is only available if you have enough Bank Extensions in your inventory. Clicking this button is followed by a confirmation message:

Obtaining Bank Extension:
Edit
This item may be obtained trough the following means:
Ad blocker interference detected!
Wikia is a free-to-use site that makes money from advertising. We have a modified experience for viewers using ad blockers

Wikia is not accessible if you've made further modifications. Remove the custom ad blocker rule(s) and the page will load as expected.