This page descibes the quest called Fan of Explosives. If you are looking to increase your Eclipse Hollow Valor, this quest is for you.
Starting out
Edit
In order to enter the Eclipse Hollow, find a Vengeance Promoter in Nightfall Citadel. Only level 60+ characters can enter Eclipse Hollow. Once inside the Eclipse Hollow, find Nobb in the north-east side of Eclipse Hollow: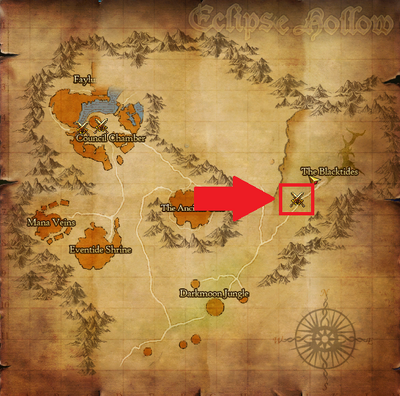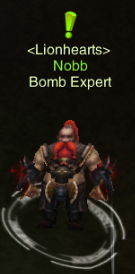 If the double-sword symbol is not on your map (as displayed above), this quest is not available and there will be a double-sword symbol on a different location on your map.
Interact with Nobb and select the 'Fan of Explosives' quest. If the quest is not available at this time, you will recieve a message saying you have to wait untill a later time.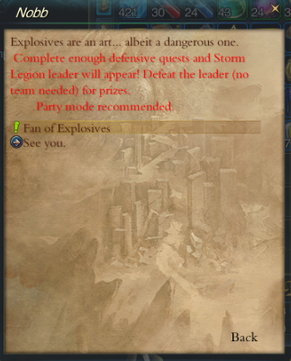 Select 'I will try to do it' to recieve the quest.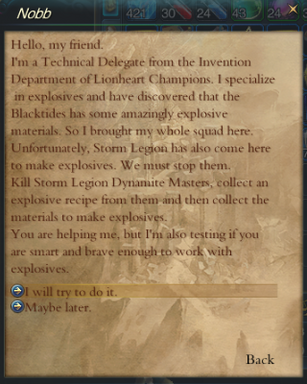 Getting the Explosives Formula
Edit
Once you have recieved the quest, you will have to hunt down the Storm Legion Dynamite Masters in the area.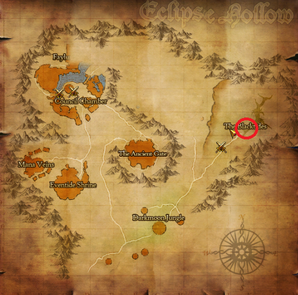 You have to keep killing them untill the item Explosive Formula is dropped. An easy way is to gather them around you by attacking each one and finish them off all at once with your Soulforce power.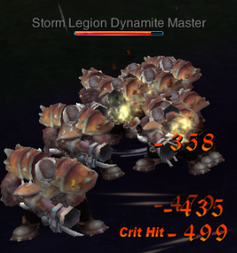 If successful, one of them will have dropped the Explosives Formula.
Finish this part of the quest by interacting with Nobb and you will recieve the objective of the next part of the quest.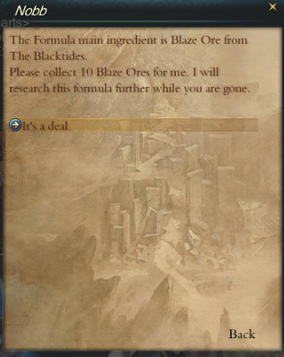 Getting the Blaze Ore
Edit
After you finish talking to Nobb, gather 10 Blaze Ore, which can be found in the area.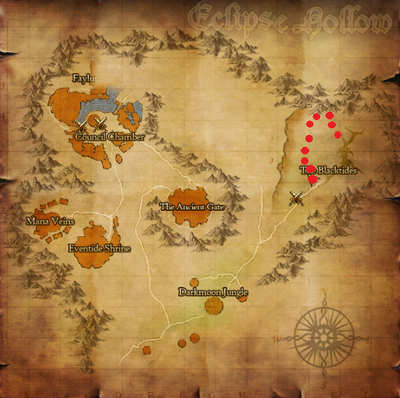 Once you have all 10 Blaze Ore, return to Nobb to finish this part of the quest and recieve the next one.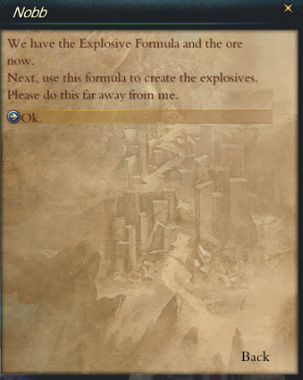 Getting the Blasting Powder
Edit
After you finish talking to Nobb, open your inventory. You should have 10 Blaze Ore and one Explosive Formula.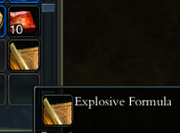 Right-click the Explosive Formula. The Explosive Formula and 10 Blaze Ore will be consumed and you will recieve one Blasting Powder.
Finishing the quest
Edit
Once you have the Blasting Powder, talk to Nobb again and finish the quest.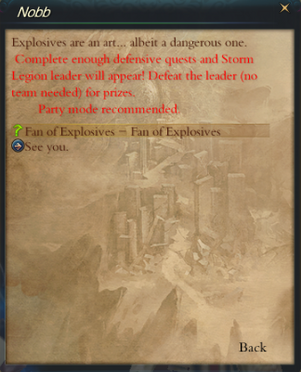 Once you have finished talking to Nobb, the following messages appear:
Experience Points differ per level
50 Eclipse Hollow Valor is only rewarded the first 10 times you complete the quest. After that, only 2 Eclipse Hollow Valor is rewarded. This resets after one day and you can start over.
The blue text "Participate in Vengeance to gain Positive Energy" refers to the following buff:
Ad blocker interference detected!
Wikia is a free-to-use site that makes money from advertising. We have a modified experience for viewers using ad blockers

Wikia is not accessible if you've made further modifications. Remove the custom ad blocker rule(s) and the page will load as expected.