Spacetime Sphere is an item in Forsaken World. It has the following description:
Using Spacetime Sphere
Edit
Interact with the Teleporter NPC (Paul) in Nightfall Citadel and select the Space Compass Recharging option. The following window appears: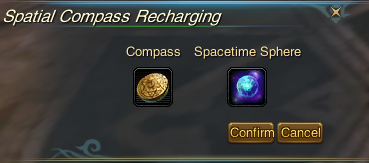 The item on the left is a Spatial Compass, the item on the right is the Spacetime Sphere. After pressing 'Confirm', the amount of remaining teleports on the Spatial Compass is increased by 10.
Obtaining Spacetime Sphere
Edit
The following is a list of ways to obtain Spacetime Sphere
Ad blocker interference detected!
Wikia is a free-to-use site that makes money from advertising. We have a modified experience for viewers using ad blockers

Wikia is not accessible if you've made further modifications. Remove the custom ad blocker rule(s) and the page will load as expected.