Trial Progress 1 is a quest given by Henry in Nightfall Citadel. Certain conditions have to be met in order for it to appear in the interaction dialog. A Trial Progress has to be present in the inventory. When you select the Trial Progress 1 quest, Henry gives the following explaination:
The items he is referring to are the following:

The Quest log gives the following description: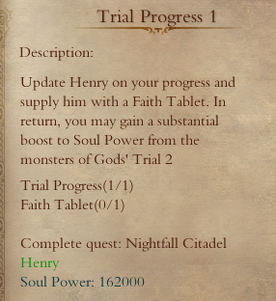 Completing Trial Progress 1
Edit
Once the required items are collected, talk to Henry again and select the Trial Progress 1 option. Henry tells you he will reward your efforts. Afterwards the items are removed from your inventory and you are rewarded Soul Power. There is no indication (item, buff, etc.) that you will actually gain the boost that Henry promises.
Ad blocker interference detected!
Wikia is a free-to-use site that makes money from advertising. We have a modified experience for viewers using ad blockers

Wikia is not accessible if you've made further modifications. Remove the custom ad blocker rule(s) and the page will load as expected.