Trial Progress 2 is a quest given by Henry in Nightfall Citadel. Certain conditions have to be met in order for it to appear in the interaction dialog. A Trial Progress has to be present in the inventory. When you select the Trial Progress 2 quest, Henry gives the following explaination:
When talking about 'Another way', he is referring to the Trial Progess 1 quest.
The items he is referring to are the following:

The Quest log gives the following description: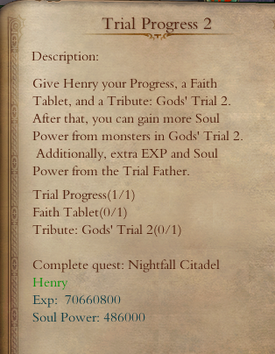 Note: Experience Points are dependant on Level.
Ad blocker interference detected!
Wikia is a free-to-use site that makes money from advertising. We have a modified experience for viewers using ad blockers

Wikia is not accessible if you've made further modifications. Remove the custom ad blocker rule(s) and the page will load as expected.